Responsible Way 13 - Urgency & resilience
We are in the midst of a health crisis that is causing huge disruption within our society: it is weakening companies, upsetting our daily lives, affecting the poorest, deepening inequalities and jeopardising the future of many young people. Today, it is not simply urgent to support the economic recovery, it has also become imperative to speed up the environmental and inclusive transition.
---
We are already witnessing a behavioural shift in favour of a more responsible, sober, less frenzied way of life. Left with little choice, companies will have to adapt, be nimble and in some cases rethink their business models to guarantee their sustainability: reviewing their organisational structure, considering the impact of their business on the environment, the societal contribution of their goods and services, relocating to offer more proximity and responsiveness, simplifying their supply chains… Today, entire industries are suffering from the economic fallout – the tourism industry is a perfect example. Some will need to undergo deep transformations or will simply disappear, in a process that could be painful.
But there is always a silver lining: companies have been made to question their resilience, their ability to face up to a trauma and to adopt best practices to support continual improvement. The spotlight is being put on those that had already made transformations to their organisation, had committed to more responsible and social approaches, and that had given themselves the means and the resources to create sustainable growth. Companies now have to learn to navigate between "sustainability" – maintaining jobs, preserving biodiversity, reducing transport, and "innovation" – unprecedented strategic partnerships, responsible technology, differentiated products and services to address emerging needs, and an improved relationship with work – in a spirit of resilience.
The health crisis and its consequences are just one further example of the environmental, social and societal battles that we still have to lead. It has confirmed the key role that companies are playing in these transformations: each must assimilate the new rules of the game, come up with new ideas, drive change and offer a new vision. To quote Winston Churchill "we must take change by the hand or rest assured, change will take us by the throat". This is also our conviction.
More than ever today, as engaged investors, we are providing hands-on support to companies that have understood that to succeed and survive in tomorrow's world, they will have to act responsibly.
Happy reading!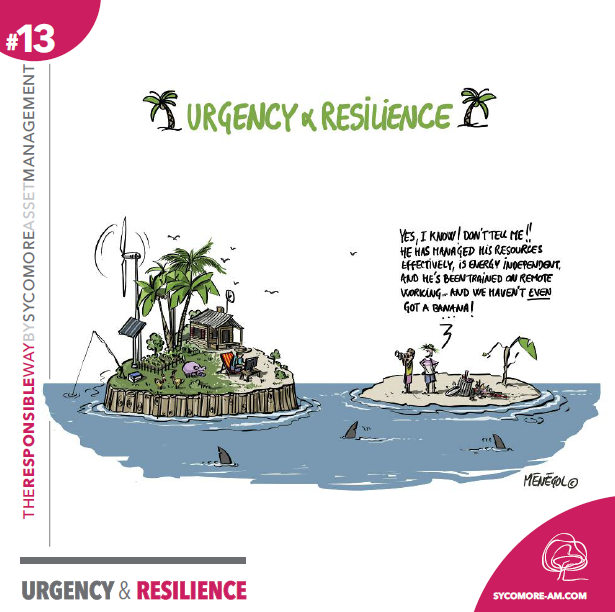 Follow our news
Complete this form to subscribe to our news by e-mail.